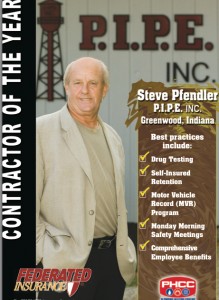 P.I.P.E Inc. Receives 2008 PHCC Safety Award
(Owatonna, Minnesota) – Federated Insurance proudly presented their second annual "Safety First!" Contractor of the Year Award to Stephen Pfendler of Greenwood, Indiana. On behalf of the 70-employee company he founded more than 25 years ago, Pfendler accepted the award during the officer installation and dinner of the Plumbing- Heating-Cooling Contractors-National Association's convention held in Atlanta on October 3.
The Safety First! award was created to recognize a PHCC contractor who takes advantage of Federated's risk management assistance to effectively implement sound risk management practices. With hundreds of clients eligible each year to receive this prestigious honor, it was Pfendler's proactive loss control methods of effective hiring practices, motor vehicle record (MVR) checks, drug testing, and Monday morning safety meetings that elevated him among his peers.
Congratulations to Stephen Pfendler and P.I.P.E. Inc. for earning the Contractor of the Year award by practicing Safety First!